The Pontyscyttle aqueduct which carries the Llangollen canal & towpath 1000 feet over the River Dee 120 feet below in a narrow iron trough and is both the longest & highest navigable aqueduct in the world.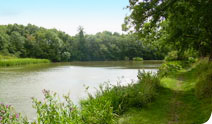 The lady's pool is a particularly broad stretch of the Kennet and Avon canal designed to look like a lake and forms part of our Kennet and Avon Walk.
The partially restored Lancaster follows an interesting route into the Lake District & passes close to the sea as it provides excellent views of the Cumbrian hills.
Meander Walking Holidays offer a range of self guided walking holidays which follow the beautiful waterways of England, Scotland and Wales.
We're bringing new walks on stream all the time – see our 'Coming Soon' section for more details, and we welcome any suggestions you may have for new routes.
Meander Walking Holidays...new routes.
We've selected walks that provide fantastic routes through some of the UK's most beautiful countryside with the opportunity to stop in interesting towns and pretty villages. Along the way there's lots to see – boats, locks, wharfs, aqueducts, castles, industrial heritage and plenty of wildlife.
Plus they have the added benefit of being flat and even, and it's not easy to get lost (don't worry we still provide a map and detailed directions!).
The Walks
We offer a series of walks in England,
Scotand & Wales. All of our Walks
offer total felxibility - you can
choose how many days
walking you would
like to do and add rest
& exploration wherever
Click Here >
Dog Friendly Walks
Why not enjoy our walks with you best
friend. Click on this symbol or
'dog friendly' button to
see details of our
dog friendly walks
Click Here >
Click Here to book with Meander Holidays >