The Pontyscyttle aqueduct which carries the Llangollen canal & towpath 1000 feet over the River Dee 120 feet below in a narrow iron trough and is both the longest & highest navigable aqueduct in the world.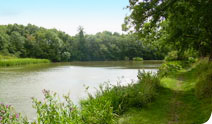 The lady's pool is a particularly broad stretch of the Kennet and Avon canal designed to look like a lake and forms part of our Kennet and Avon Walk.
The partially restored Lancaster follows an interesting route into the Lake District & passes close to the sea as it provides excellent views of the Cumbrian hills.
About Us
Meander Walking Holidays is owned and operated by Phil and Wendy Newman. We came up with the idea of walks following Britain's waterways whilst walking along our local canal. We liked the fact that it provided a path that was level and easy to follow, with lots of different things to see and somewhere to stop for something to eat and drink.
All our routes follow this principle. They take you through the most glorious countryside Britain has to offer, with plenty of towns, villages and historical features to explore along the way. Consequently our walks are designed to provide 10 to 12 miles walking per day, but if you'd like to walk longer or shorter distances just let us know and we'll provide an alternative schedule.

As well as the beautiful countryside our walks have been chosen to take you to wonderful towns like Bath, Edinburgh and Brecon, unspoilt villages and towns which still retain their own character and independent shops, and to see magnificent architectural feats like the Pontyscyttle aqueduct and the Falkirk Wheel.
Your holiday includes bed and breakfast accommodation for each night of your holiday, situated on or a short distance from your route. We've carefully selected comfortable and highly rated accommodation in small hotels or B & B's. Your holiday includes an overnight stay before the first days walking, and an overnight stay at the end of your holiday. So 3 night walking has 4 night accommodation etc….
You will leave your car at the first nights accommodation (unless you travel by public transport) and be returned there at the end of your holiday. We will transport your luggage so it's waiting for you at your next night's accommodation – so all you need to take with you is your requirements for the days walking.
We also provide you with a detailed daily guide to each days walking with suggestions for lunch, shops, toilets and things of interest, together with a map showing the route.

Our walks offer flexibility – you can travel them in either direction and with options on the number of days walking you choose to do. You can include rest days or take extra days to enjoy a specific town or area.