The Pontyscyttle aqueduct which carries the Llangollen canal & towpath 1000 feet over the River Dee 120 feet below in a narrow iron trough and is both the longest & highest navigable aqueduct in the world.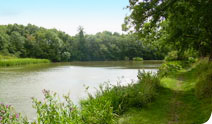 The lady's pool is a particularly broad stretch of the Kennet and Avon canal designed to look like a lake and forms part of our Kennet and Avon Walk.
The partially restored Lancaster follows an interesting route into the Lake District & passes close to the sea as it provides excellent views of the Cumbrian hills.
Affiliates
We are not currently members of any affiliate networks but are interested in working with like-minded organisations for mutual benefit. To discuss the opportunities further contact us on:
Email: enquiries@meanderholidays.co.uk
Telephone: 01543 473736