The Pontyscyttle aqueduct which carries the Llangollen canal & towpath 1000 feet over the River Dee 120 feet below in a narrow iron trough and is both the longest & highest navigable aqueduct in the world.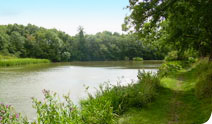 The lady's pool is a particularly broad stretch of the Kennet and Avon canal designed to look like a lake and forms part of our Kennet and Avon Walk.
The partially restored Lancaster follows an interesting route into the Lake District & passes close to the sea as it provides excellent views of the Cumbrian hills.
Privacy Policy
When you book a holiday with us we will require your name, address and postcode. If you pay by credit or debit card we will also need your card details.
We will also request your telephone number and e-mail address so that we can contact you if there is a problem.
We may then use this information for

- internal record keeping?
- to send you promotional mailings
- to contact you with periodic market research questionnaires
We are committed to the security of the information we hold and have put in place procedures to safeguard the information we collect and hold, and these comply with the Data Protection acts of 1984 and 1998. You can opt out of receiving these communications by ticking the relevant boxes when you book or enquire, and you can unsubscribe from any of our communications at any time. We will not sell, rent, exchange, distribute or lease your personal information to third parties unless required to do so by law. You may request details of the personal information we hold. If you would like to see this please contact us in writing at.
Meander Holidays
1 Raven Road
Yoxall
Burton-on-Trent
DE13 8PY
The person responsible for privacy matters is Phil Newman.
You can contact us by phone on 01543 473736
You can contact us by e-mail at enquiries@meanderholidays.co.uk
Or by clicking here and completing our online enquiry form.